Welcome to the City of Madison, Wisconsin
GPS Control Points
The information provided here is subject to change without notice.
April 12, 2005 -- Revised control sheets to conform to NGS "Blue Book" values.
(Please discard any old control sheets and replace them with the revised sheets)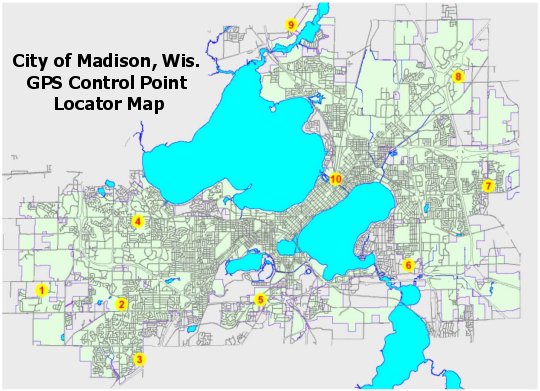 To view the control point data sheets, click on the points on the map or on the links below.
1 - Eaglewood GPS, Eaglewood Dr at Redan Dr, Section 33, T7N, R8E
2 - Elver Park GPS, Elver Park along McKenna Blvd, Section 36, T7N, R8E
3 - Quarry Cove GPS, Quarry Cove Park along Bradbury Rd, Section 12, T6N, R8E
4 - Owen Park GPS, Owen Park at parking area, Section 24, T7N, R8E
5 - Emil GPS, Emil Street across from Engineering Service Building, Section 34, T7N, R9E
6 - Edina-Taylor GPS, Edna-Taylor Park at parking area off Femrite Dr, Section 21, T7N, R10E
7 - Dominion GPS, Sprecher Rd at Wyalusing Dr, Section 12, T7N, R10E - DISTURBED - DO NOT USE
8 - Patriot Park GPS, Patriot Park along Congress Ave, Section 23, T8N, R10E
9 - Eagle School GPS, West River Rd near entrance to Eagle School, Section 14, T8N, R9E
10 - Burr Jones GPS, Burr Jones Park near parking area, Section 6, T7N, R10E

Current control point data sheets should be obtained through NGS or SCO Control Finder. These Control Points are provided by the City as is, with no warranty, either expressed or implied. It is your responsibility to use the data contained in these files properly. The City of Madison assumes no liability for the accuracy, or subsequent use, of these files. By viewing these files you agree to these terms and conditions.

GPS Home Page
General base station information
Base station status announcements
City of Madison PLSS corner tie sheets